These victims of hatred have names, they were innocent human beings. Let us give them the respect of acknowledging that that they were human beings and not a "story" that fades away until the next hate killings.
They were all Jewish and murdered simply because they are Jews. Sadly the killing of innocent human beings, minorities, ethnic groups, those perceived as "different", and anyone who is seen by others as "unamerican" in their beliefs are now in danger of being targeted for murder by the hate mongers, bigots, and those seeking to blame others for anything that suits their own bigotry, prejudices.
This is the new "normal" for our Country.
Who will be next?
On Sunday, Karl Williams, Allegheny County's chief medical examiner, released the victims' identities in a news conference.
Among those killed were a pair of brothers and a married couple. The oldest was 97 years old, and the youngest 54.
"To the victims' families, to the victims' friends, we're here as a community of one for you," said Pittsburgh Mayor Bill Peduto. "We will be here to help you through this horrific episode. We'll get through this darkest day of Pittsburgh's history by working together."
These are the victims of the Pittsburgh shooting:
Jerry Rabinowitz
Jerry Rabinowitz, 66, came from Edgewood Borough, Pennsylvania, and was a primary care physician in the area for many years, some of his patients told CNN.
His nephew, Avishai Ostrin, shared a photo on Facebook of his uncle, who he said always wore a bowtie that "made people smile" and "made his patients more at ease."
"You know how they say there are people who just lighten up a room? You know that cliche about people whose laugh is infectious? That was Uncle Jerry," he wrote. "It wasn't a cliche. It was just his personality."
Ostrin said if there was a message his uncle would want everyone to take from the tragedy, "it would be a message of love, unity, and of the strength and resilience of the Jewish people."
Susan Blackman knew Rabinowitz for at least 35 years, she told CNN. He was her family doctor and cared for her three children. She went to see Rabinowitz every quarter.
"He was like a member of the family, and a member of the extended family," she said. "Like somebody you know that's always part of your community. ... Dr. Jerry was just somebody who, when you see him, your eyes light up."
"I can't imagine the world without him," she said.
Brothers Cecil and David Rosenthal
Cecil and David Rosenthal, 59 and 54, were from Squirrel Hill.
ACHIEVA, a Pittsburgh nonprofit that provides support for people with disabilities, posted a statement about the Rosenthal brothers, calling them "two well-respected members of our community' and "extraordinary men."
"Cecil's laugh was infectious. David was so kind and had such a gentle spirit. Together, they looked out for one another," said Chris Schopf, a vice president for residential support at ACHIEVA. "They were inseparable. Most of all, they were kind, good people with a strong faith and respect for everyone around."
The brothers always sat in the back of the temple and greeted people as they came in to worship, according to Suzan Hauptman, who told CNN she grew up at Tree of Life synagogue.
"They were like the ambassadors because they were always there," she said. "And they will always be there in our hearts."
Laura Berman, the cantor of Temple Sinai, said Cecil was a "beautiful man" and a "sweet, gentle soul."
"The kindest soul you would ever meet," she said. "A smiling face. He was one of those embodiments of the community. Just open, warm, smiling, wanting to help and just in his beautiful simplicity. That's who he was."
Rose Mallinger, a 97-year-old from Squirrel Hill, was the "sweetest, lovely lady," said Robin Friedman, who told CNN that Mallinger was a secretary in her school's office growing up.
Mallinger regularly attended the synagogue with her daughter, Friedman said, and likely knew everyone there. She always offered a friendly greeting, a hug and a smile.
Her daughter, Andrea Wedner, 61, was among the wounded, a family member said. She remains hospitalized
.
Despite her age, Mallinger was "spry" and "vibrant," Friedman said.
"She had a lot of years left."
Elisa Schwartz, a family member, remembered Mallinger -- her grandmother's cousin -- in a tribute on her Facebook page, calling the 97-year-old "one of the matriarchs of the family."
Schwartz encouraged people to donate blood to help survivors.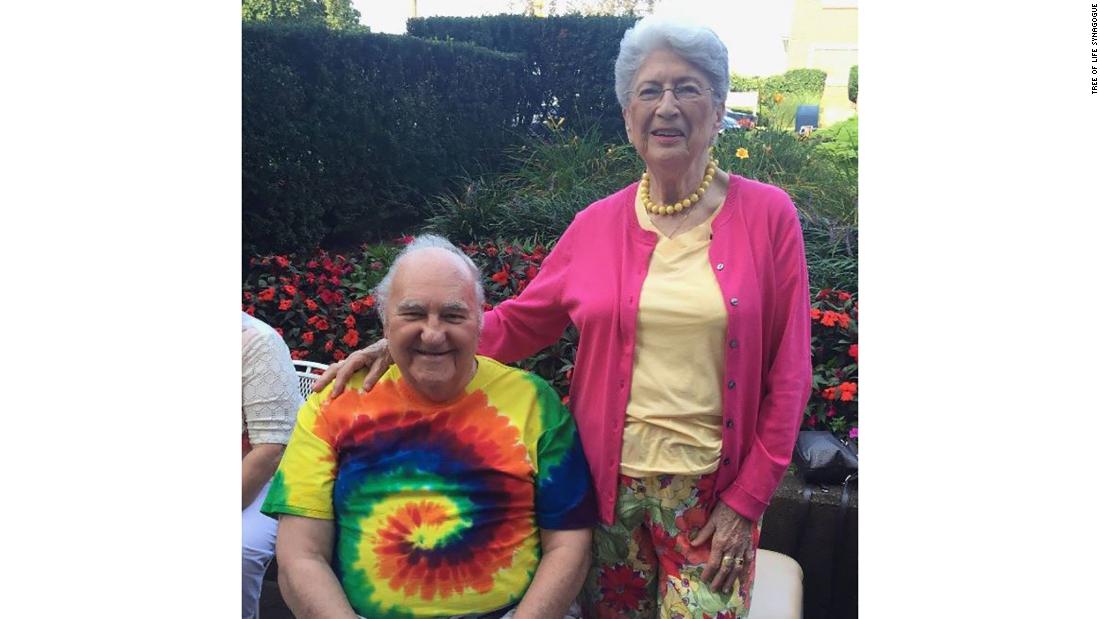 Sylvan, 86, left, and Bernice Simon, 84.
The Simons, a married couple from Wilkinsburg, Pennsylvania, were "kind, generous and good-hearted individuals," according to their neighbor, Jo Stepaniak.
She lived next to 84-year-old Bernice and 86-year-old Sylvan for nearly 40 years, she said, and they were the "sweetest people you could imagine.
"They wanted to give back to people and be kind," Stepaniak said, adding that the Simons always tried to help out in their small neighborhood and in the Jewish community.
"They were loving and giving and kind," she said, "gracious and dignified."
"He was a great guy," Halle said. "He was a fun guy, he had a dry sense of humor and everybody loved him."
Halle said he and his family were shocked by his uncle's sudden death at the synagogue, where Stein went every Saturday.
The Squirrel Hill resident was retired, his nephew told CNN affiliate WPXI.
In a post on Facebook, Stein's son wrote that Saturday was "the worst day of my life."
"My mom, sister and I are absolutely devastated and crushed!" Joe Stein wrote on his Facebook page. "Our lives now are going to have to take a different path, one that we thought would not happen for a long time."
Joe Stein said his father was a "simple man" who "did not require much."
Joyce Fienberg

, 75, of Oakland neighborhood, Pittsburgh
Joyce Fienberg, 75, was a former research specialist at the Learning Research and Development Center at the University of Pittsburgh, the center said on its Facebook page, calling her a "cherished friend" and "an engaging, elegant, and warm person."
Fienberg's husband Stephen, an acclaimed statistician, passed away two years ago after battling cancer, according to Carnegie Mellon University, where he taught for 36 years.
Jason Connor, one of Stephen's former Ph.D. students, told CNN the Fienbergs treated Stephen's students like family. Joyce Fienberg would welcome the students into their lives and would continue to send them cards long after they'd left Carnegie Mellon, Connor said.
She was also a grandmother, and has two sons, Connor told CNN.
"Everyone says this, but she really was an enormously caring person," Connor said. "She was a very petite woman but lit up a room with her huge personality. We weren't just welcome in the classroom, but into their home."
Fienberg grew up at the Holy Blossom Temple in Toronto, the temple said on its Facebook page. She and Stephen were married at the temple, where her confirmation class photo still hangs on the wall.
Richard Gottfried, 65, of Ross Township, Pennsylvania, opened a dental practice together with his wife, Peg Durachko, in 1984, according to the practice's website.
In 1996, the couple joined the local Discovery Study Club, a local group that's part of an international organization of dentists and specialists who offer educational lectures and workshops to encourage excellence in dentistry, the site said.
Gottfried, who was Jewish, and Durachko, who is Catholic, helped prepare other couples for marriage through the St. Athanasius church.
Patrick Mannarino, the North Hills School District superintendent, sent out a note to the district that said Gottfried had been the district's dentist for a long time. He and his wife were "a fixture in the lives of those in our community," Mannarino said.
"We are deeply saddened by this tragedy," he added, "and our thoughts and condolences go out to all of those affected including Dr. Durachko and her loved ones."
Melvin Wax, 88, of Squirrel Hill, Pittsburgh
Melvin Wax was a retired accountant, father and grandfather with an easy-going nature. He was quiet but loved to tell jokes.
One of his passions was going to synagogue for services.
"That was his routine. That was as important to him as breakfast to most people," said Bill Cartiff, 56, of Scott, who on Sunday was gathered with Mr. Wax's family at their home in Mt. Lebanon.
The family was told that Mr. Wax — who went by Mel — was leading shabbat services in the basement of Tree of Life Saturday morning when the shooting began.
• Irving Younger, 69, Mount Washington, Pittsburgh
Irving Younger could be quiet, but longtime neighbors said that once you got him talking, it didn't take long to catch on to his two greatest passions: his faith and his family.
"He was the most wonderful dad and grandpa," said Tina Prizner, who lived next to Younger for the past several years along Smith Way in Pittsburgh's Mt. Washington neighborhood. "He talked about his daughter and his grandson, always, and he never had an unkind word to say about anybody."
Younger, 69, was a former small business owner and youth baseball coach.
Outside of work, Younger was a devout participant in his congregation, which only recently had begun holding services at the Tree of Life.
"He went every day. He was an usher at his synagogue, and he never missed a day," Prizner said. "He'd come home, maybe grab a bite to eat and go back again."
Prizner, who is not Jewish, was supposed to serve as a lector at St. Mary's and made it to the church Sunday morning, but found herself too overcome with grief to speak.
She and other neighbors reflected fondly of memories conversing with Younger and seeing him take joy in simple things, like passing out Halloween candy.
"He was so kind," Prizner said from the entrance to her home along the sloped residential street beside Younger's in Mt. Washington, her eyes tearing up. "He was a beautiful person, a beautiful soul."
To give support for the victims families, survivors, and their synagogue a fundraiser to help the congregation with the physical damages to the building, as well as the survivors and the victims' families. Respond to this hateful act with your act of love today.
This is a
GOFUNDME
Certified Charity campaign. This means that money is processed by GoFundMe's nonprofit partner PayPal Giving Fund, and funds are sent directly to the Tree of Life Congregation. As the campaign organizer, I cannot access or manage any of the donations or disbursements. GoFundMe is in contact with and supporting the synagogue throughout this process.